LIVE WITH ENERGY: Stop Disease Before it Stops YOU!
While disease doesn't appear in a single day, you can certainly start reversing it in a single day!
LIVE empowers readers by providing entertaining, science-rich explanations of how the body works and how to quickly change it from a disease-state to a healthy-state. Readers gain a clear understanding of what they can do immediately to enjoy greater physical, emotional, and sexual health. Karen reversed her epilepsy and her scoliosis, and her clients have reversed numerous dis-eases, including many forms of cancer, by doing exactly what is outlined in her page-turner book LIVE.
Combining the best from thirty years of research and her experience working with thousands of clients, you will not find another book that gives as many answers to the wide variety of health topics covered in this book anywhere. Nor will you find one filled with so many enjoyable and helpful visuals! Take a sneak peek right here! You CAN take the fear out of diagnosis and enjoy learning how to live dis-ease free!
ORDER KAREN'S BEST SELLING BOOK "LIVE"!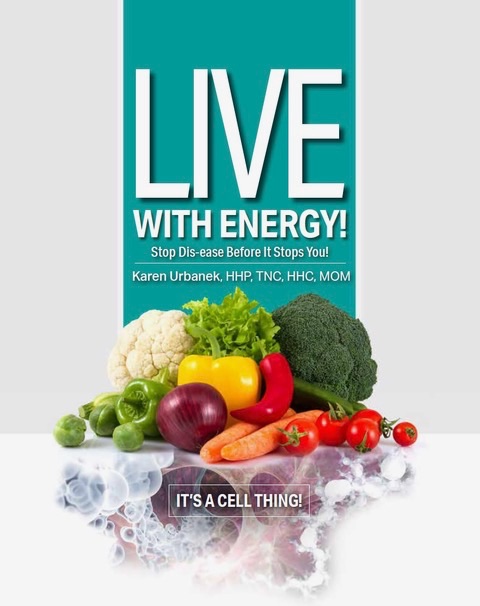 Living in RAWALITY
Karen's compilation of recipes comes from over 25 years of playing in the kitchen. Having ten children who all came with different loves of food, owning ZuZu's Organic Cafe, catering countless thousands at health expos, weddings, and private events, and having three licensed kitchens, she is excited to share with YOU these recipes!
Living in Rawality Includes: Over 700 delicious recipes made with organic ingredients for every meal of the day... including snacks.
All Recipes are gluten-free, with the exception of those in the Dare to Eat Gluten section.
Almost every recipe is or can be made, vegan.
There's even an Easy Tips For The Kitchen Section!
Recipes for natural home and beauty products using essential oils and natural ingredients you already have in your home!
⭐⭐⭐⭐⭐"YUM!!!! I ABSOLUTELY LOVE THIS BOOK! I've been eating these recipes my entire life! You'll love every recipe and will know how to feed your ENTIRE family! Any raw foodist, or anyone gluten free, dairy free, soy free or vegan, you'll love this book! Every recipe is OUTSTANDING and includes ALL the recipes we have served to thousands. Enjoy- I know you will!"
ORDER KAREN'S RECIPE BOOK AND MAKE YOUR TASTE BUDS THE HAPPIEST THEY'VE EVER BEEN!
Want to learn more and teach others? Join Us!
Schedule a call TODAY to join one of our team members for an introduction to our educational health programs and professional certifications.
If you are looking to be healthier for yourself or your family or looking to enhance your career as a health professional with an advanced certification, we can help guide you!
We offer a holistic education option for EVERY level of learner.
Learn about our powerful certifications, the Human Body Master Guide, and the 10-Step Program which focuses on the 10 Pillars of Health.